Vince Gill Declined Offer to Join Dire Straits Years Before Making It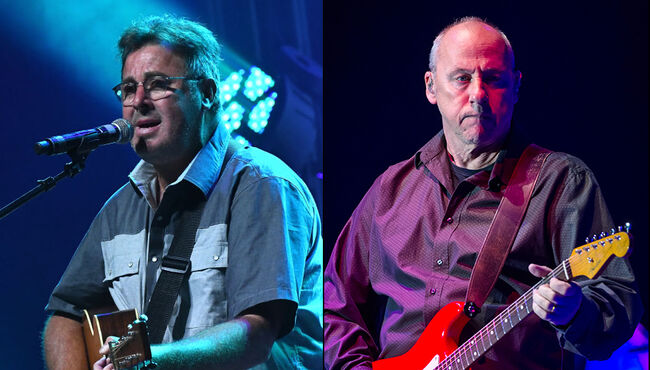 Vince Gill may owe the success of his solo career to a potentially disastrous decision he made in the '80s.
Gill says he was working as a session musician, essentially living paycheck to paycheck, when he was invited by Mark Knopfler to join Dire Straits. It was a lifeline to Gill, whose career wasn't going well. But he turned it down anyway.
"It was funny because I wasn't making any money to speak of," Gill told Foo Fighters guitarist Chris Shiflett on the Walking the Floor podcast. "Session work was keeping me alive, jingles and things like that. [Joining Dire Straits] would have solves anything. It would've been a great payday. But I told Mark, I said 'Man, I can't bail. If i do this, it's gonna talk a couple years out of my life. I got a new record deal; if I bail on it, it'd kind of be admitting failure.' I said, 'I can't do that; I gotta keep trying.' So I turned down the sure thing. Probably the dumbest move you could make."
It was a gutsy choice, especially since Gill didn't have a hit of his own for several more years — and about four solo albums — as he recalls. But it worked out since Gill became one of the biggest male country artists of the '90s, winning more than 20 GRAMMY Awards.
Last year, Gill joined the Eagles, taking up some of the late-Glenn Frey's vocal and rhythm guitar duties. While Gill is a lifelong Eagles fan, and was happy to tour with the Eagles, he tells Shiflett that his enthusiasm never gets too far ahead of him.
"It's a great thrill, but the only reason I'm getting to do it is because something tragic happened," Gill said, referring to Frey's death in 2016.
So while the singer's solo career was on hold for most of last year, he's about to return to the road this summer. His new tour starts August 10.
Get Gill's tour dates here.
Photo: Getty Images