Booyah! Scotty McCreery and Family Wins 'Celebrity Family Feud'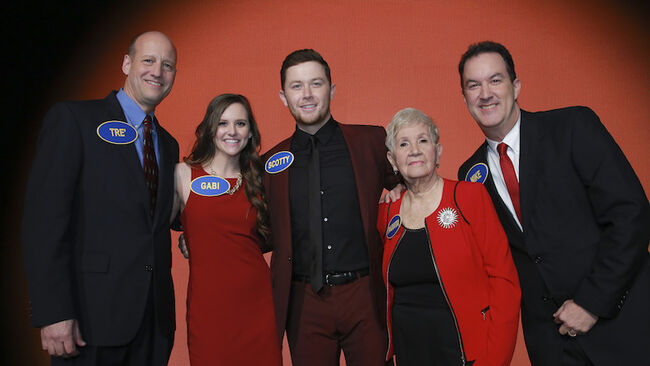 Years after being crowned the winner of American Idol, Scotty McCreery is still continuing his winning streak. The country singer was recently named the winner of Celebrity Family Feud after playing against Saturday Night Live actor-comedian Chris Kattan for the champion title.
The McCreery's became the proud recipients of the $25,000 grand prize after McCreery and his wife, Gabi Dugal, ruled their opponents on the Steve Harvey-hosted game show. Dugal raked in a whopping 140 points after answering a series of survey questions, with the "This Is It" crooner defeating his competition by scoring three number one survey answers and earning his team the final 60 points needed to give them the big win.
The couple — who were joined by father-in-law Merrick Dugal III, father Michael McCreery, and grandmother Paquita McCreery — will donate their winnings to St. Jude Children's Research Hospital.
Among the scenarios in which McCreery was asked to respond to lead his team to victory included how many days does one stop showering before a bad smell develops (answer: two) and having to name a sauce he likes to dip nuggets into (answer: BBQ). However, the show's gloriously hilarious moment came when Harvey gave him the proposal, "Something you think of when you hear the word 'boo,'" to which the 24-year-old musician returned, "Yah."
Catch the triumphant moment play out in the video clip, below: